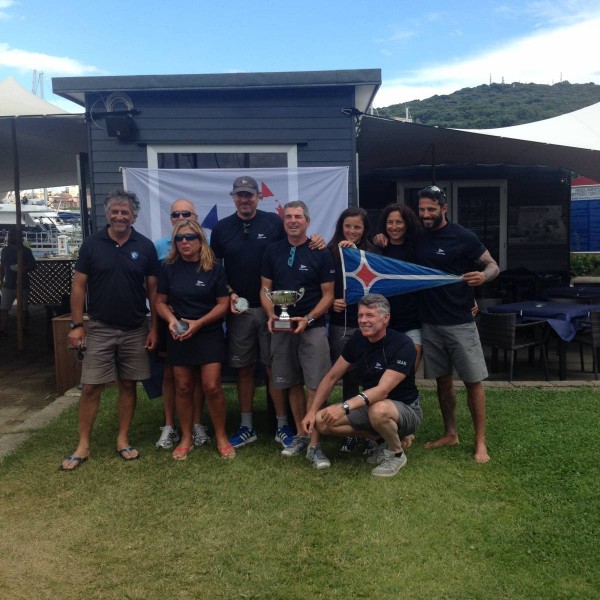 Yacht Club Costa Smeralda clinch 2K Gaeta on final run.
Three days of the most amazing racing finally brought together Team Banana and Yacht Club Costa Smeralda for a nail biting final. Race 1 and despite Banana winning the start YCCS quickly gained control and with sheer professionalism moved though to a secure 1-2 which they held to the finish. Not really that exiting, but then race 2… YCCS win the start but Pietro Iavicoli of Banana is able to hold the left pinning YCCS Antonio Sodo… a penalty at the windward mark puts Banana into the lead. YCCS Fred Cudmore (Indeed the same) now had all to do. But Banana Team's captain Bianca Crugnola had the speed to avoid a last second desperate hook by Cudmore. Now all level 1:1. Race 3 and again Banana have the start. YCCS gain but a brilliant passback at the windward mark has Banana back in the lead. If nightmares can happen they did…. 1-2 at the leeward mark, Banana just can not agree who should go around first…disaster…Cudmore gets an overlap and YCCS are back in the game. This time Cudmore has the wings of Hermes and with Sodo comfortably through into first, Cudmore planes through to a glorious second and victory for YCCS.
In the rest of the fleet Bavaria finds new strength, with a stonking win against Banana in the round robin. And a final win against Gaeta. Brindisi though 5th can take a lot of comfort from a brilliant win against YCCS.
Final Ranking
YCCS
Team Banana
Gaeta
Bavaria
Brindisi
So what was it like… have a look at the photos on the Events Page for Gaeta on the website… but in the meantime, if racing in flat waters, with 15knots and sunshine and warm water with the most amazing scenery is your idea of heaven…then see you next year, 17-19 June, 2016…mark your diary now.
Full Scores
ç
Round Robin 1
YCCS
Brindisi
Gaeta
Banana
Bavaria
Loss=1 Win=0
Loss=1 Win=0
Loss=1 Win=0
Loss=1 Win=0
Loss=1 Win=0
Race Losses
Race Points Penalties
Nett Race Losses
Position
Team 1
YCCS
1
0
0
0
1
1
Team 2
Brindisi
0
1
1
1
3
0.5
3.5
Team 3
Gaeta
1
0
1
1
3
3
Team 4
Banana
1
0
0
1
2
2
Team 5
Bavaria
1
0
0
0
1
1
Round Robin 2
YCCS
Brindisi
Gaeta
Banana
Bavaria
Loss=1 Win=0
Loss=1 Win=0
Loss=1 Win=0
Loss=1 Win=0
Loss=1 Win=0
Race Losses
Race Points Penalties
Nett Race Losses
Position
Team 1
YCCS
0
0
1
0
1
1
Team 2
Brindisi
1
1
0
0
2
2
Team 3
Gaeta
1
0
1
0
2
1
3
Team 4
Banana
0
1
0
0
1
1
Team 5
Bavaria
1
1
1
1
4
4
Round Robin 3
YCCS
Brindisi
Gaeta
Banana
Bavaria
Loss=1 Win=0
Loss=1 Win=0
Loss=1 Win=0
Loss=1 Win=0
Loss=1 Win=0
Race Losses
Race Points Penalties
Nett Race Losses
Position
Team 1
YCCS
0
1
1
0
2
2
Team 2
Brindisi
1
1
1
1
4
4
Team 3
Gaeta
0
0
1
0
1
1
Team 4
Banana
0
0
0
0
0
0
Team 5
Bavaria
1
0
1
1
3
3
Round Robin 4
YCCS
Brindisi
Gaeta
Banana
Bavaria
Loss=1 Win=0
Loss=1 Win=0
Loss=1 Win=0
Loss=1 Win=0
Loss=1 Win=0
Race Losses
Race Points Penalties
Nett Race Wins
Position
Team 1
YCCS
0
0
0
0
0
0
Team 2
Brindisi
1
1
1
0
3
3
Team 3
Gaeta
1
0
1
0
2
2
Team 4
Banana
1
0
0
1
2
2
Team 5
Bavaria
1
1
1
0
3
3
Round Robin 5
YCCS
Brindisi
Gaeta
Banana
Bavaria
Loss=1 Win=0
Loss=1 Win=0
Loss=1 Win=0
Loss=1 Win=0
Loss=1 Win=0
Race Losses
Race Points Penalties
Nett Race Losses
Position
Team 1
YCCS
1
0
0
1
1
Team 2
Brindisi
0
1
1
1
3
3
Team 3
Gaeta
1
0
1
2
2
Team 4
Banana
0
1
1
1
Team 5
Bavaria
1
0
0
0
1
1
Round 1
Round 2
Round 3
Round 4
Round 5
Round 6
Total Losses
Ranking
YCCS
1
1
2
0
1
0
5
1
Brindisi
3.5
2
4
3
3
0
15.5
5
Gaeta
3
3
1
2
2
0
11
3
Banana
2
1
0
2
1
0
6
2
Bavaria
1
4
3
3
1
0
12
4