July 8-10 2016 Gaeta, Italy
Gaeta again lived up to its reputation for providing some of the very best racing. Racing started between 1030 and 1130 daily depending on the arrival of the breeze. Then perfect sailing until the early evening.
Day 1 saw Serpentine in the form that would take them to the end of the event. Total mastery of the boats and the conditions. With almost military precision they hacked their way through their opponents one by one. Spinnaker was an early victim of this onslaught…and not until the third round robin was Spinnaker to emerge as a real threat…a devastating defeat at the close of Day 2 placed Spinnaker back as favourites to win… and so it would have been had a final not been sailed.
Race 1 and Spinnaker had the edge, but after that Serpentine somehow refreshed came back hard. A tightly fought duel, but Serpentine broke through to win. Race 3 and it was Serpentine all the way to the Winners podium.
Gaeta welcomed a Scandinavian team formed around a Swedish core to the 2K Circuit. We look forward to seeing them in Hamburg and Venice.
Final ranking
1st Serpentine
2nd Spinnaker
3rd Yacht Club Costa Smerlada
4th Royal Thames Yacht Club
5th Bavaria
6th Sweden
7th Yacht Club Gaeta
Round Robin Final Score Grid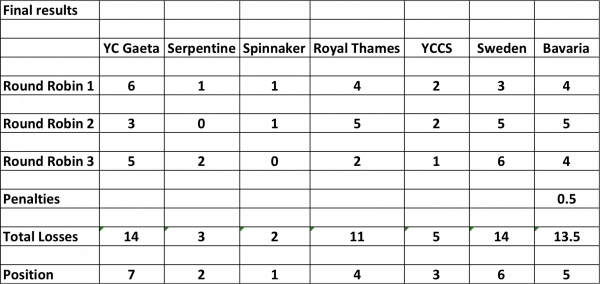 Day 3 Round Robin 3 Complete Round Results
Day 2 Results Complete
Round Robin 2 Complete
Round Robin 3 Partial Results
Day 1 Serpentine take the lead.
Results of Round Robin 1
Results Round Robin 2
Positions
Schedule of Racing for Gaeta. Please download onto phone or whatever.
Sailing Instructions and Damage deposit form
Standard Sailing Instructions: 2K Standard-Sailing-Instructions 2016 V4 May18 2016
Local Sailing Instructions 2K Local-Sailing-Instructions 2016 V4 19 April 2016
Damage Form 2K Assoc Damage Deposit Agreement Gaeta
Yacht Club Gaeta Facebook page with details of location etc etc  https://www.facebook.com/ycgaeta/
also please check  http://www.yachtclubgaeta.it/index.php?option=com_content&view=article&id=4&
For correct  bank details for payment:
The standard payment method is bank transfer to:
NAME OF ACCOUNT     : Yacht Club Gaeta E.V.S.
CITY                              : Gaeta
Bank Account                  : Monte dei Paschi di Siena – Agenzia Gaeta
IBAN:                             : IT 65 Y 01030 73990 000001429244
SWIFT-CODE (BIC)        : PASCITMMGAE
Insert as reference: "E2K 2016 Entry Fee Team_Name".
NOR click here  Gaeta 2K NOR TEAM RACE May 2016
On Line Entry Form  Gaeta Entry Form
In the meantime the Chief Umpire's Holiday shots to whet your interest.
This slideshow requires JavaScript.