2019 Royal Yacht Squadron Global Team Race Regatta 24-28 September
Report from Cowes:
The 2019 Global Team Race Teams at the Royal Yacht Squadron,
Cowes, Isle of Wight.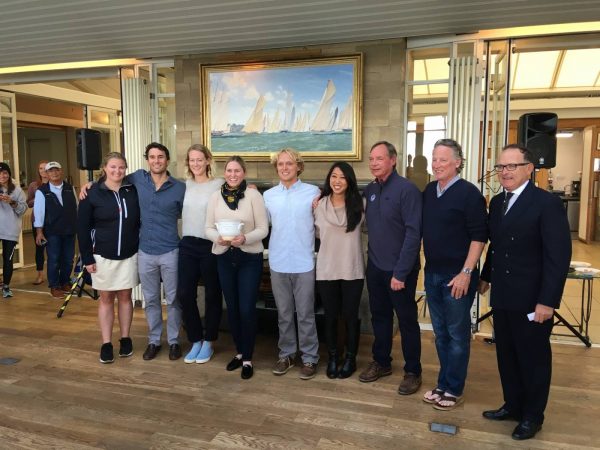 the Winning Team from St. Francis Yacht Club, California, USA
In what can only be described as extreme conditions St Francis Yacht Club took first place in one of the most intensely fought matches in this the second edition of the Global Team Racing Regatta.
The regatta hosted by the Royal Yacht Squadron and sailed in 12 matched J70's saw winds rarely less than 18 knots, but team racing at the highest of global standards. Twelve teams from around the world assembled at Cowes for the three days event.
Each day saw a similar pattern of fresh breeze mounting to gale force by early afternoon resulting in racing being abandoned. despite this the race management team delivered a full round robin, not to mention some truly memorable social events ashore.
With each race key, early losses for Newport Harbour Yacht Club and the New York Yacht Club saw their winning chances slip away, while the Royal Thames and St Francis moved into the final day with unbeaten records. Then New York getting the measure of the event hands St Francis a bitter defeat. So now all is down to the match between St Francis and the Thames. If the Thames win then with 2 more matches they are still vulnerable, but if they lose then the title is handed to the the Americans.
In possibly the tightest of races the winning combinations change again and again…. then with only meters to the finish the second Thames boat is penalised, all now rests with the lead Thames boat.. in a too desperate move another penalty for the Thames… and that is it. St Francis having sailed all their races sail home knowing that their reward is Gold.
The Global Team Racing Regatta will now move in 2020 to Italy where it will be hosted by the Yacht Club Costa Smeralda.</p>
Final Rank Order
1st St. Francis Yacht Club (USA)
2nd Royal Thames Yacht Club (GBR)
3rd New York Yacht Club (USA)
4th Newport Harbor Yacht Club (USA)
5th Royal Cork Yacht Club (IRL)
6th Dutch Match and Team Race Association
7th Royal Yacht Squadron (GBR)
8th Bayerischer Yacht Club (GER)
9th Sorrento Sailing Couta Boat Club (AUS)
10th Yacht Club Argentino (ARG)
11th Japanese Sailing Federation (JAP)
12th Royal Bombay Yacht Club (IND)